What is a Prosthodontist?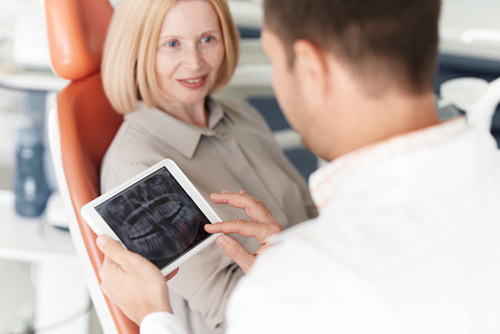 At Prosthodontic Associates of Long Island, we specialize in the diagnosis, treatment planning, rehabilitation, and maintenance of damaged or missing teeth. This field of dentistry, known as prosthodontics, is one of the nine dental specialties recognized by the American Dental Association (ADA).


Why See a Prosthodontist?

A prosthodontist is the most qualified dentist you can see if you are missing one or more teeth. Our doctors have completed dental school and three additional years of educational training during a prosthodontic graduate program. In other words, we are the recognized experts for anything that needs to be replaced in your mouth. While many general dentists can perform some prosthetic procedures, prosthodontists have dedicated their lives to this type of dental care. Prosthodontists regularly lead teams of general dentists and other healthcare professionals to provide patients with the best possible solutions.

We use cutting-edge technology and state-of-the-art techniques to fully restore the function and esthetics of missing teeth. We are also certified by the American Board of Prosthodontics and subject to re-certification every eight years. This ensures you receive the best possible treatment.


Common Dental Prostheses

We are highly trained in some cosmetic and restorative treatments, some of which include:

| | |
| --- | --- |
| • | Dental Crowns. A crown is a tooth-shaped cap used to restore the appearance and chewing function of a damaged tooth. Crowns can also be used to cover a dental implant. |
| • | Fixed Bridges. A bridge is a restoration that fills the gap created by a missing tooth with a pontic. The pontic, or false two is supported by the adjacent teeth, which we cap with dental crowns. A fixed bridge can prevent your remaining teeth from shifting out of their proper position. |
| • | Implant Restorations. Implants can be used to support a single crown, fixed bridge, or even full arch restoration. We specialize in the actual restorations, rather than the surgery. Most restorations are made from ceramic material, such as porcelain or zirconia. These materials match the light reflective properties of natural enamel. |
| • | Veneers. A veneer is a razor-thin ceramic covering used to fix teeth that are chipped, cracked, broken, discolored, misshaped, and even gapped. Veneers are considered a conservative alternative to dental crowns. Veneers only require a minor reshaping of healthy enamel, as opposed to crowns, which require a complete reshaping. |
| • | Complete and Partial Dentures. A complete denture is a removable appliance that restores a full arch of missing teeth. Because the appliance is removable, it does require a special cleaning and maintenance routine. A partial denture is used to replace one or more adjacent missing teeth. Most partials attach to the surrounding teeth with metal clasps or precision attachments. Precision attachments are much more discrete than their metal counterparts. Both partial and complete dentures need to be repaired or replaced every seven to 15 years. Other restorations, such as dental implants, will last for several decades without the need for replacement. |
| • | Inlays and Onlays. It is best to think of inlays and onlays as partial crowns. This type of restoration is best for a tooth with too much damage for a filling, but not enough to require the use of a crown. |
Schedule a Consultation

If you are missing one or more teeth, we can help! Call 516-627-0999 to schedule your complimentary consultation appointment today!